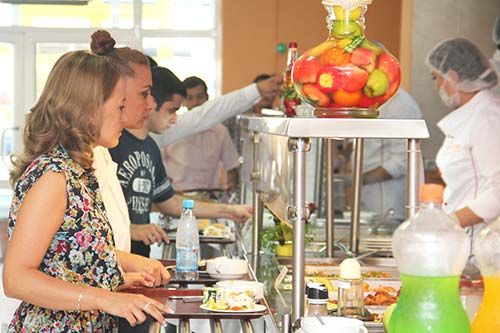 Providing low in saturated fats and high in fiber and vitamins meals for Schlumberger.
C`est Bon was awarded a contract for providing catering services for Schlumberger office and workshop at Salyan highway. C`est Bon set up the kitchen and all infrastructure on site for effective production and serving of food. C`est Bon services was covering:
Provision of lunch
Provision of sandwich packs
Canteen management
Coffee and tea stations services
Provision of packed lunches
Provision and operation of professional kitchen equipment
 Schlumberger company has the strictest HSE rules and policy in the industry and we are glad that C`est Bon can fully follow those rules with 0 cases. Health, safety and environmental issues are the most important factors relating to our business. C`est Bon places great emphasis on the relevant regulations and procedures being strictly adhered to.
2nd November 2011
Key words: workforce meal, workforce break, open buffet, vip, catering for oil and gas industry,  food services, provision of breakfast, lunch, dinner and late dinner, sandwich packs, canteen/cafeteria management, coffee and tea stations services, packed lunches, snack bars, operation of professional kitchen equipment, camp and hotel management services, camp management, sport facilities management services, maintenance of sport equipment, laundry management services, staff uniform laundry services, cleaning services, operating of shops, maintenance of kitchen, laundry and gym,  outsource hospitality facilities, general catering and hospitality management, cafeteria and restaurant management