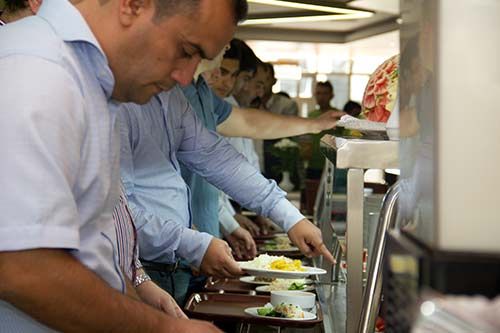 Providing catering services at Azerfon (Nar Mobile) head office.
C`est Bon was awarded a contract for providing daily catering services for the Azerfon office for 400 staff members. Azerfon recently moved to a new office and there was a need for a professional catering vendor. C`est Bon set up the kitchen and all infrastructure on site for effective production and serving of food. C`est Bon services was covering:
Provision of lunch
Provision of sandwich packs
Canteen management
Provision of packed lunches
Provision and operation of professional kitchen equipment
11th July 2013
Key words: workforce meal, workforce break, open buffet, vip, catering for business, food services, provision of breakfast, lunch, dinner and late dinner, sandwich packs, canteen/cafeteria management, coffee and tea stations services, packed lunches, snack bars, operation of professional kitchen equipment, maintenance of kitchen, outsource hospitality facilities, general catering and hospitality management, cafeteria and restaurant management.